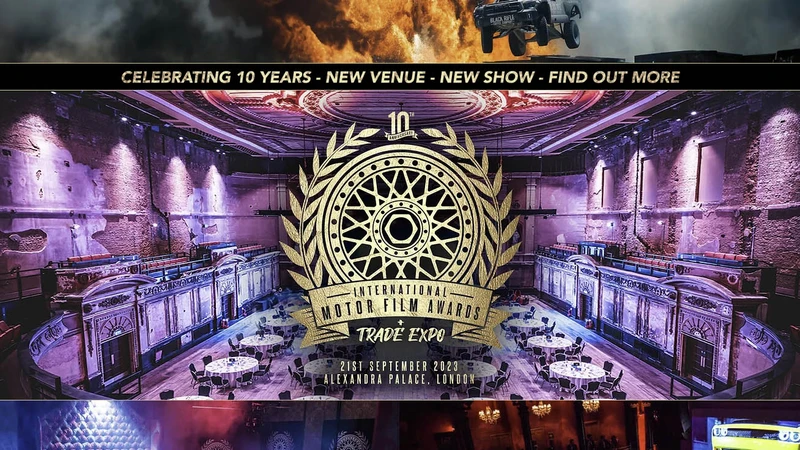 Estoy seguro que muchas veces te preguntaste por la falta de películas o de videos y material audiovisual de alta calidad relacionado con el mundo de los autos. Hay producciones que son famosas, como por ejemplo algún spot publicitario que saltó a la fama en el Super Bowl, algunos de los episodios de The Grand Tour, películas como Bullitt y algún video de buena calidad que se haya viralizado en las redes sociales.
La realidad es que lo que mencionamos es sólo la punta del iceberg, porque el género tiene hasta una entrega de premios al respecto, que se celebra desde hace 10 años. Estamos hablando de los International Motor Film (IMFA), premios con los que se reconocen a las mejores piezas audiovisuales relacionadas con los autos.
La premiación fue fundada por los realizadores audiovisuales, Vince Knight, director de Fotografía, y Alistair "Al" Clark, director y realizador. Además, los premios cuentan con jurado de primer nivel, que incluye a ganadores del Oscar, de los BAFTA y de los Emmys, además de importantes directores del mundo audiovisual y figuras relevantes del automovilismo, como Ben Collins (el primer "Stig"), Vicki Butler-Henderson, Magnus Walker, Andy Wallace y Tiff Needell, entre otros.
Los nominados y las categorías
Si te gusta todo lo que tiene que ver con películas y videos del deporte motor, esta es la oportunidad para que leas la lista de nominados y te pongas al día. Son 12 ternas, además de otras cuatro técnicas (Mejor cinematografía, Mejor sonido, Mejor edición y Mejor stunts) y de un "Gran Premio".
¿Dónde se pueden ver las películas, documentales y demás? Algunas seguramente ya las viste en plataformas como como Prime Video, HBO Max o Netflix. Hay otras que están en el cine (caso Gran Turismo) y, si tenés suerte, también en YouTube. Lamentablemente, hay algunas que sólo se vieron en circuitos independientes de cine o en eventos promocionales. Te recomiendo que vayas buscando por título en Google o IMDB.
A continuación, las categorías:
Best Drama Feature (Mejor película dramática)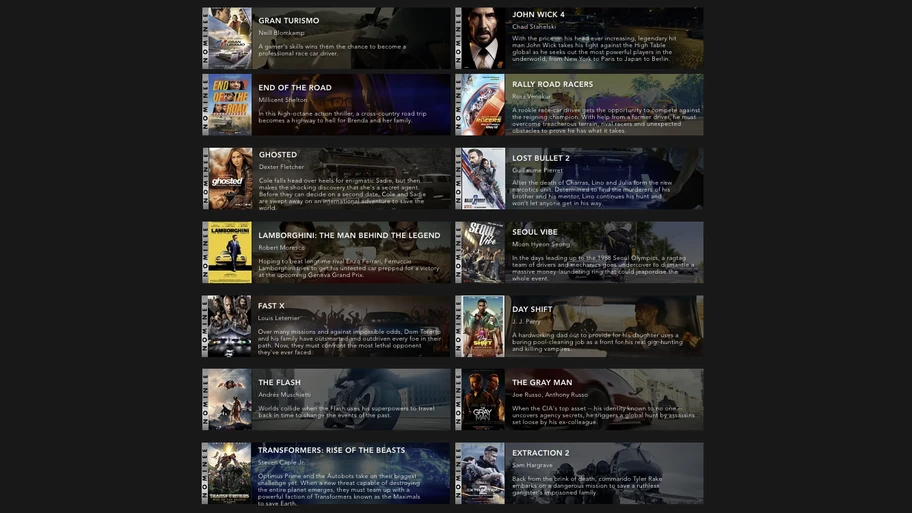 Gran Turismo
John Wick 4
End of the Road
Road Rally Racers
Ghosted
Lost Bullet 2: Back for More
Lamborghini: The Man Behind The Legend
Seoul Vibe
Fast X
Day Shift
The Flash
The Gray Man
Transformers: Rise of the Beasts
Extraction 2
Best Drama Short (Mejor cortometraje dramático)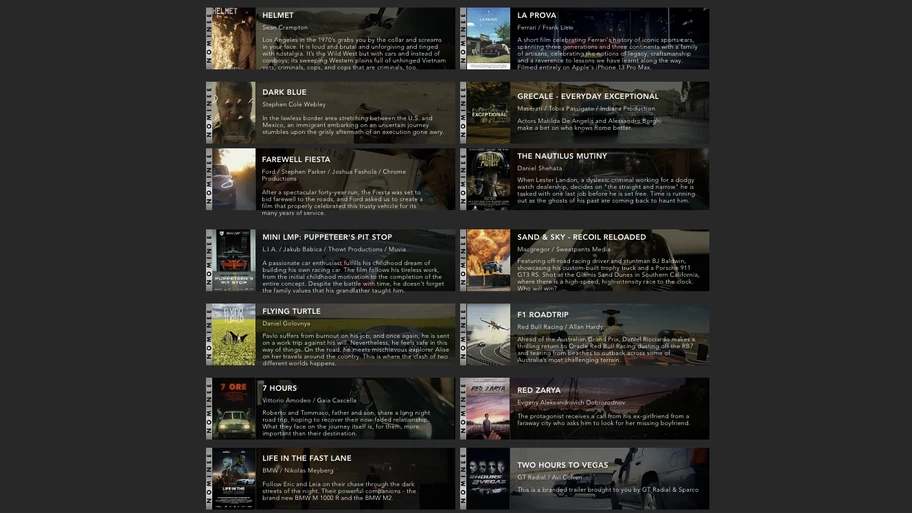 Helmet
LA PROVA
Dark Blue
Grecale - Everyday Exceptional
Farewell Fiesta
The Nautilus Mutiny
MiniLMP: Puppeteer's Pit Stop
Sand & Sky - Recoil Reloaded
Flying Turtle
F1 Roadtrip
7 Hours
Red Zarya
LIFE IN THE FAST LANE
Two Hours to Vegas
Best Documentary Feature (Mejor documental)
Vettel: More Than A Champion
DRIFT ASCENSION
Williams & Mansell: Red 5
Go Or Go Home
THE GREAT ADVENTURE
#RACEGIRL
Tenacity
GO FAST RISK EVERY THANG
The Baja Bug Movie
Enzo Ferrari: the Red and the Black
The Chrysler Turbine Car
Paula Murphy: Undaunted
Villeneuve Pironi: Racing's Untold Tragedy
A Rally for Rangers
Best Documentary Episode (Mejor episodio documental)
On The Limit - Jake's Hill
Lotus Tech - Behind the Craft
Owner's Story: Road-going Porsche 964 Supercup
The Grand Tour - A Scandi Flick
RDS GP: Tire War 2
Revelations - The BMW M1
Top Gear - Driving The Blackest Rolls-Royce Ever
The Quiet Storm
Hope Rewarded
On The Limit - In My Wildest Dreams
Pilota Ferrari
Cammisa's Ultimate Lap Battle
No Brakes
Behind the Dream
Best Documentary Short (Mejor cortometraje documental)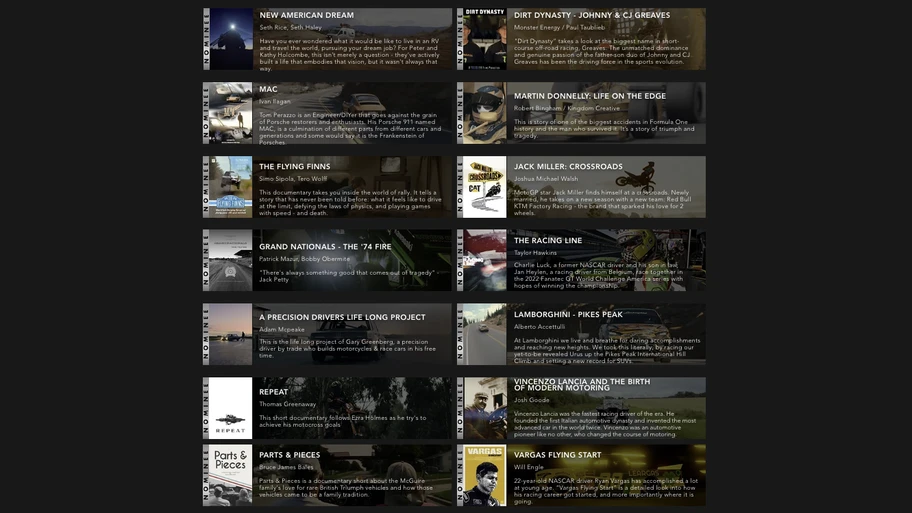 New American Dream
Dirt Dynasty - Johnny & CJ Greaves
MAC
Martin Donnelly: Life On The Edge
The Flying Finns
Jack Miller: Crossroads
Grand Nationals - The '74 Fire
The Racing Line
A Precision Drivers Life Long Project
Lamborghini - Pikes Peak
Repeat
Vincenzo Lancia and the Birth of Modern Motoring
Parts & Pieces
Vargas Flying Start
Best Journalism Film (Mejor película de periodismo)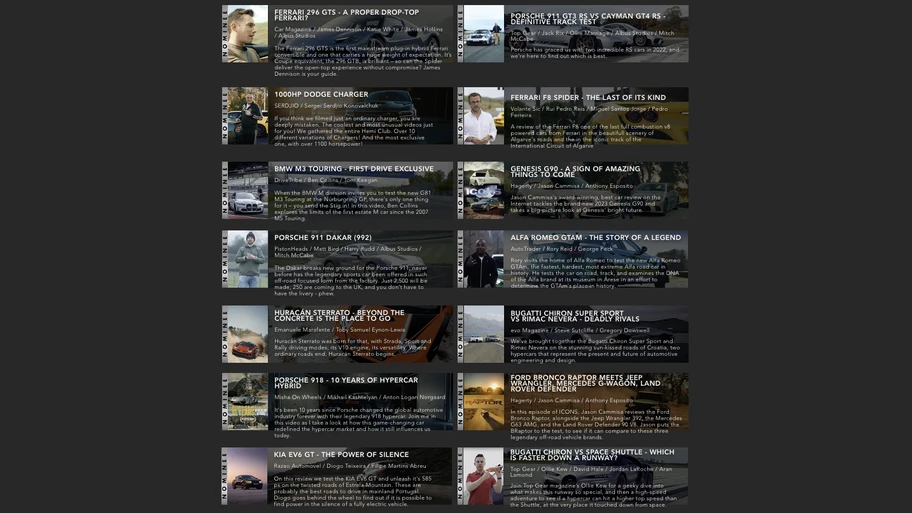 CAR Magazine - Ferrari 296 GTS
Top Gear - 911 GT3 RS vs Cayman GT4 RS
SERDJIO - 1000hp Dodge Charger
Volante Sic - Ferrari F8 Tributo
DriveTribe - BMW M3 Touring
Hagerty - Genesis G90
PistonHeads - Porsche 911 Dakar (992)
AutoTrader - Alfa Romeo GTAm
Lamborghini Huracán Sterrato
evo Magazine - Bugatti vs Rimac
Misha on Wheels - Porsche 918
Hagerty - Ford Bronco Raptor
Razão Automóvel - KIA EV6
Top Gear - Bugatti Chiron vs Space Shuttle
Best Event Film (Mejor película de eventos)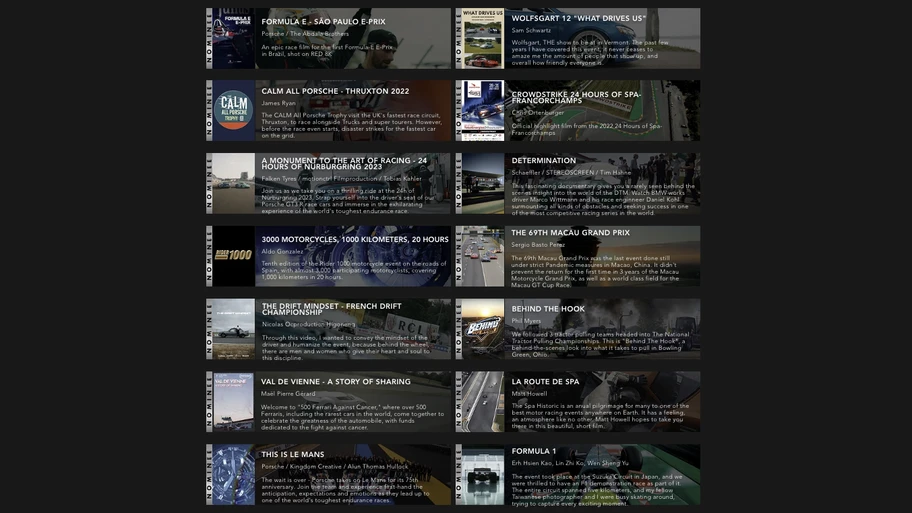 Formula E - São Paulo E-Prix
Wolfsgart 12 "What Drives Us"
CALM All Porsche - Thruxton 2022
Crowdstrike 24 Hours of Spa-Francorchamps
A Monument to the Art of Racing
DETERMINATION
3,000 motorcycles, 1,000 kilometers, 20 hours
The 69th Macau Grand Prix
The Drift Mindset - French Drift Championship
Behind The Hook
Val de Vienne - A story of sharing
La Route De Spa
This is Le Mans
Formula 1
Best Commercial Film (Mejor publicidad de película)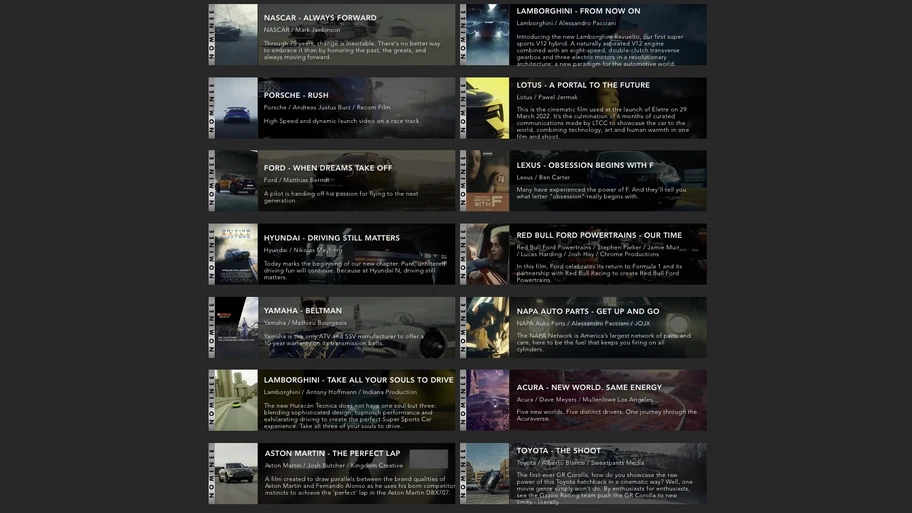 NASCAR - Always Forward
Lamborghini - From Now On
Porsche - RUSH
Lotus - A Portal to the Future
Ford - When Dreams Take Off
Lexus - Obsession Begins with F
Hyundai - Driving Still Matters
Red Bull Ford Powertrains - Our Time
Yamaha - Beltman
NAPA Auto Parts - Get Up and Go
Lamborghini - Take All Your Souls To Drive
Acura - New World. Same Energy
Aston Martin - The Perfect Lap
Toyota - The Shoot
Best Promotional Film (Mejor publicidad)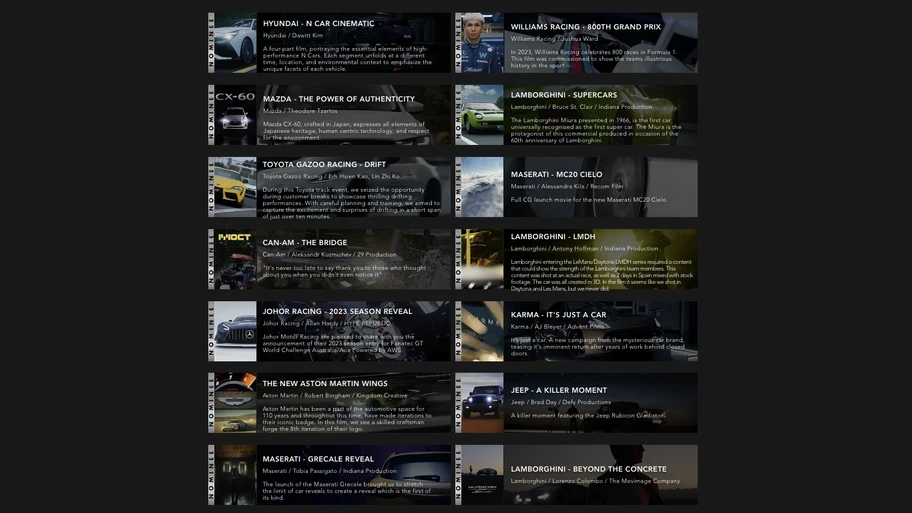 Hyundai - N Car Cinematic
Williams Racing - 800th Grand Prix
Mazda - The Power of Authenticity
Lamborghini - Supercars
Toyota Gazoo Racing - Drift
Maserati - MC20 CIELO
Can-Am - The Bridge
Lamborghini - LMDh
Johor Racing - 2023 Season Reveal
Karma - It's Just a Car
Aston Martin - The New Aston Martin Wings
Jeep - A Killer Moment
Maserati - Grecale Reveal
Lamborghini - Beyond the Concrete
Best Independent Film (Mejor película independiente)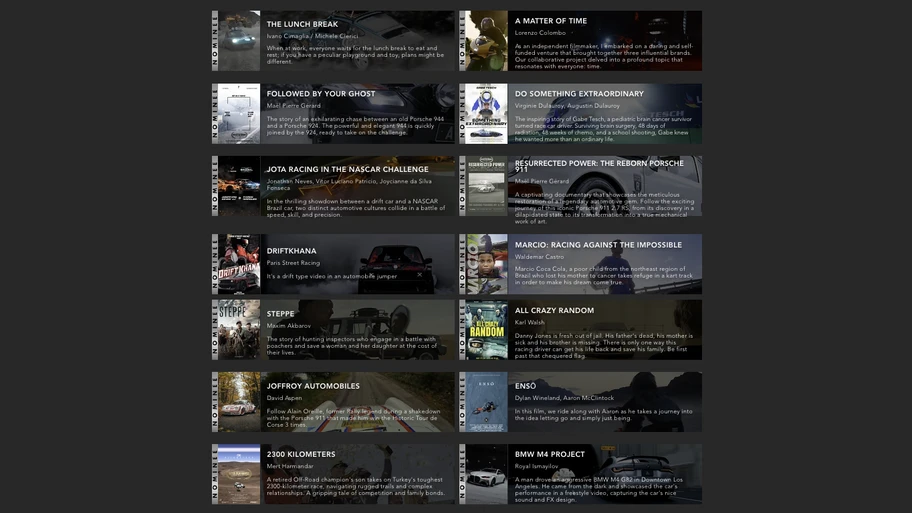 The Lunch Break
A Matter of Time
Followed By Your Ghost
Do Something Extraordinary
Jota Racing in the Nascar Challenge
Resurrected Power: The Reborn Porsche 911
DRIFTKHANA
MARCIO: Racing Against The Impossible
Steppe
All Crazy Random
Joffroy Automobiles
Ensõ
2300 KILOMETERS
BMW M4 Project
Best Student Film (Mejor película de estudiantes)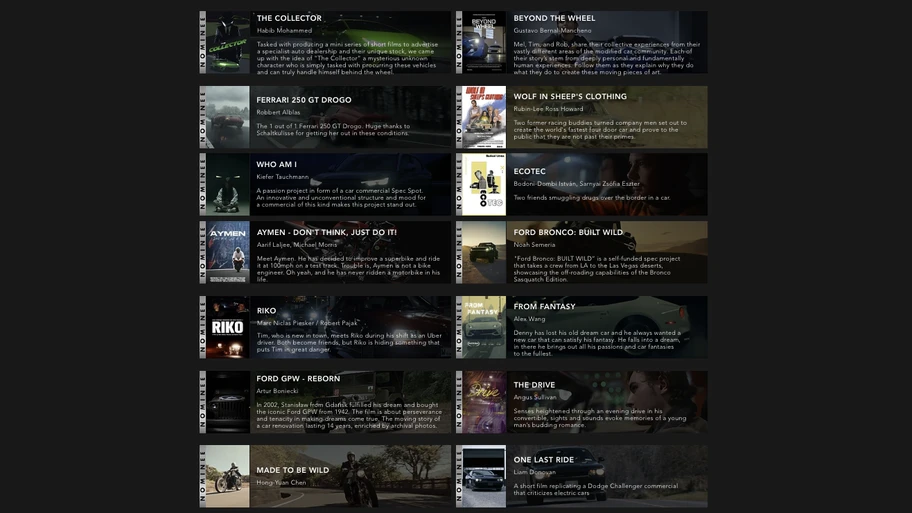 The Collector
Beyond The Wheel
Ferrari 250 GT DROGO
Wolf in Sheep's Clothing
WHO AM I
Ecotec
Aymen - Don't Think, Just Do It!
Ford Bronco: BUILT WILD
RIKO
FROM FANTASY
Ford GPW - Reborn
The Drive
Made to be Wild
One Last Ride
Best Creative Film (Mejor película creativa)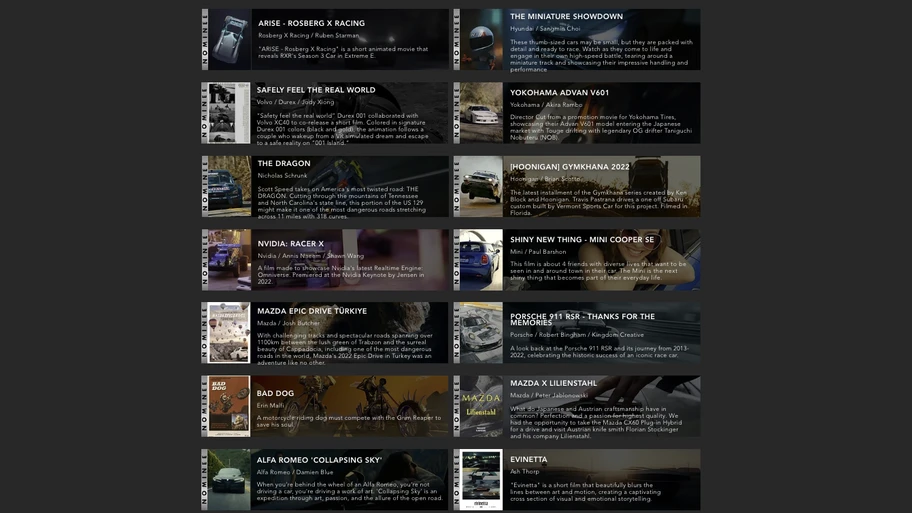 ARISE - RosbergXRacing
The Miniature Showdown
Safely Feel The Real World
YOKOHAMA ADVAN V601
The Dragon
[HOONIGAN] Gymkhana 2022
Nvidia: Racer X
Shiny New Thing - Mini Cooper SE
Mazda Epic Drive Türkiye
Porsche 911 RSR - Thanks for the Memories
Bad Dog
Mazda x Lilienstahl
Alfa Romeo - Collapsing Sky
EVINETTA
¿Conocías a todas estas películas y videos? ¿Cuáles creés que van a ganar? Comparte con nosotros tus películas favoritas de autos.